Our guide helps you to understand a little more detail on the different product types available within the range.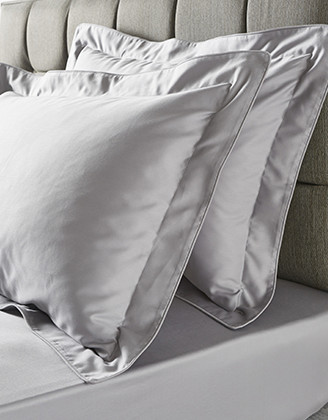 Pillowcase with a plain border around the sides. Can be layered with housewife to add a bit of added luxury.
Shop Oxford Pillows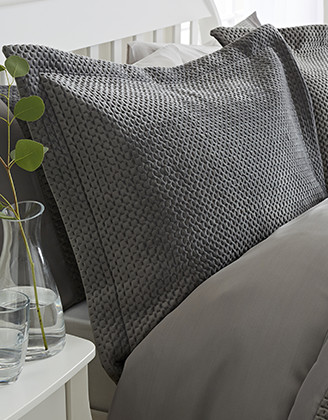 Decorative oxford style pillowcase often used as an additional accessory when dressing the bed, and are designed to co-ordinate with our range of throws.
Shop Pillowsham Pillows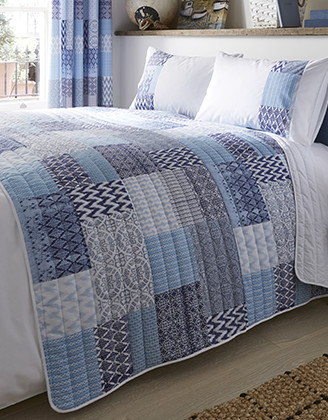 A decorative additional cover to bed, usually quilted to add extra benefit of warmth. Available in a range of sizes.
Shop Throws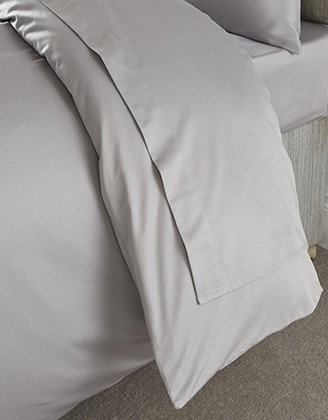 A sheet put between the sleeper and duvet to add an additional layer to the bed. An alternative to a duvet in summer but can also add extra warmth to the bed when required in winter.
Shop Flat Sheets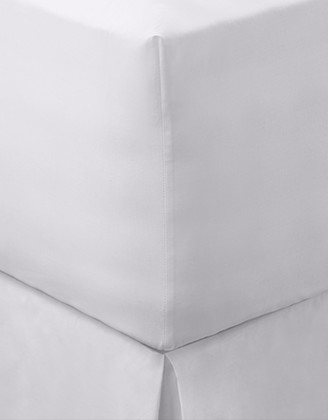 Same as a standard fitted sheet but deeper - ideal to fit over a deeper mattress or a topper and mattress combined.
Extra Deep Fitted Sheets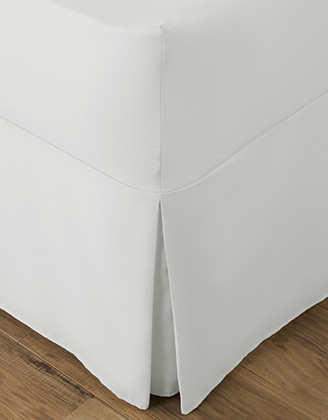 A sheet that is designed to sit on top of mattress like a fitted sheet and also cover the sides of the bed, as a valance and cover the divan base. It sits above your mattress (and protector/topper).
Fitted Valance Sheets
All our sheets, throws, bedspreads and cushions differ in size and each specific size is stated alongside product so please check to ensure these are suitable for your requirements. Generally our duvet sets and pillowcases are approx the below sizing.
Single
Width (cm)
135
Length (cm)
200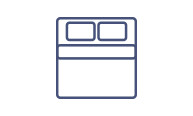 Double
Width (cm)
200
Length (cm)
200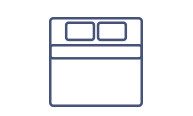 King
Width (cm)
230
Length (cm)
220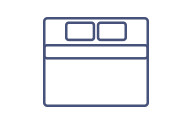 Super King
Width (cm)
260
Length (cm)
220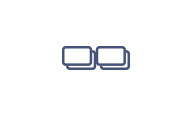 Pillowcases
Width (cm)
74
Length (cm)
48
Of course, choosing bedding is about more than how it feels. Little details can make a big difference to the look of you bedroom, so we've decoded the most common terminology to help you choose the perfect finishing touches.
Printed:
Layered colours applied to fabrics by screen to create durable, vibrant designs.
Embroidery:
Designs stitched with thread onto fabric either by machine or by hand that creates beautifully delicate detail.
Quilted:
Three layers of fabric: a woven cloth top, a layer of wadding and a woven back finished with a decorative overstitched design.
Applique:
Separate pieces of fabric sewn on top of the base fabric to create decorative designs.
Embellished:
Additions to fabrics such as sequins, jewels or beads.
Digitally
Printed:
Fabric printed on by using large scale ink-jet printing machines which give great depth of detail to designs.
Piping:
Finishing trim of rolled fabric fixed into a seam to highlight the edges on a product.
Selecting which fabric you're going to sleep in comes down to personal preference and what's important to you. Here is a breakdown of the main options available and what each one has to offer.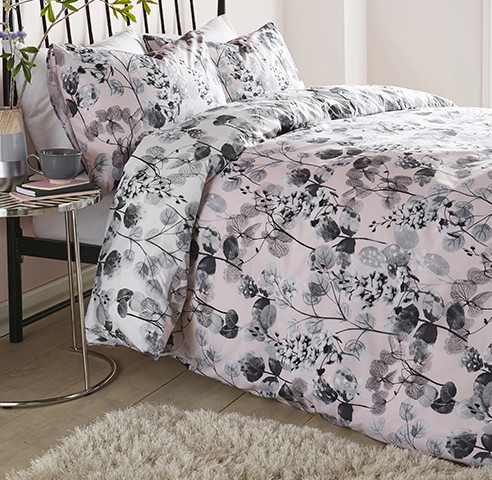 (Polyester & Cotton Mix)
The comfort of cotton blended with the convenience of a durable polyester that only requires a little ironing. A great everyday essential.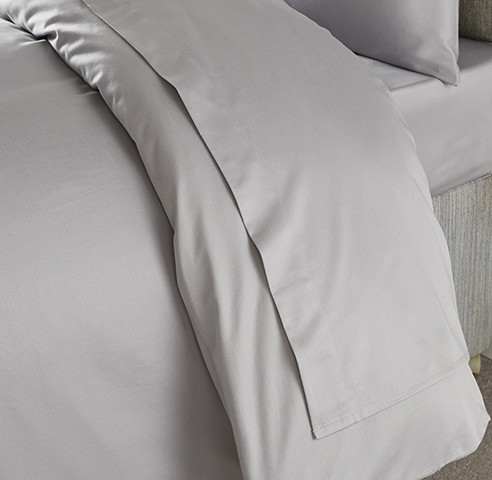 Soft, smooth, cool and absorbent fabric – perfect all year round.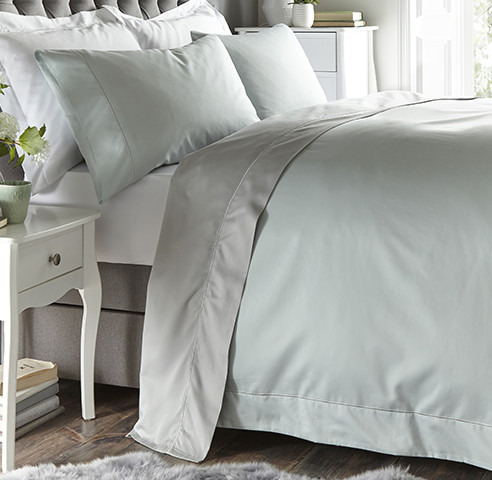 Cool and lightweight fabric spun from long staple fibres which has an exceptionally luxury soft feel.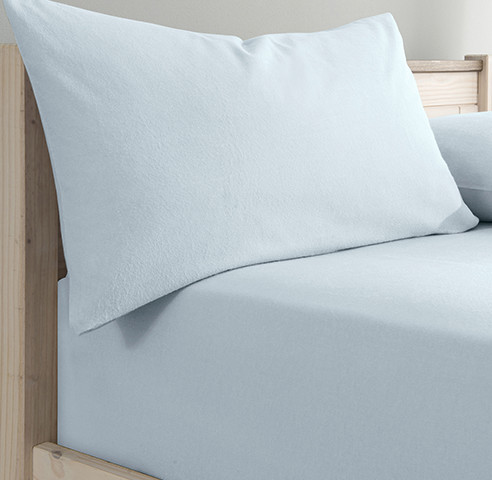 Cosy cotton fabric brushed on both sides after weaving to create a soft texture that holds warmth.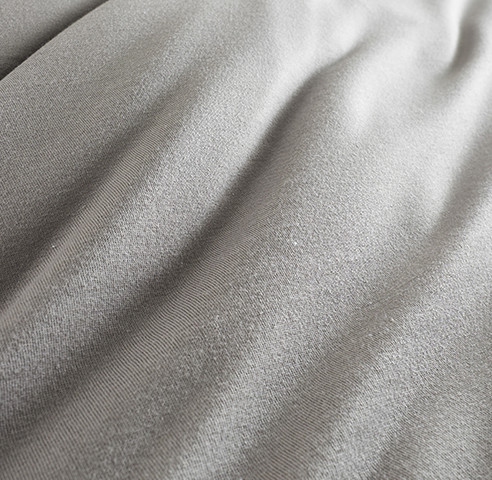 Pure cotton stretch jersey sheets are cool in summer and warm in winter.
The thread count (TC) is simply the number of threads in a square inch of fabric. Generally, the higher the thread count, the more luxurious the fabric.
180TC - 200TC
---
(Percale)
Plain weave fabric construction with a minimum of 180 thread count. Our Percale ranges offer an extremely durable and strong option. Available in both cotton and polycotton options.
Shop 180TC - 200TC
300TC - 500TC
---
Our best quality sheets ensures both quality and comfort that will last and last. Available in Cotton Rich, Cotton Sateen and Egyptian Cotton fabrics.
Shop 300TC - 500TC
600TC - 1000TC
---
For ultimate sophistication our luxurious supreme fine sateen sheets are available in 600TC and 1000TC and will provide the ultimate bedroom haven.
Shop 600TC - 1000TC
Definitions to the most common weaves you will find within our range.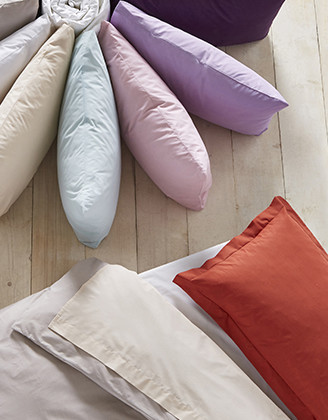 Plain weave is the most common weave option and is available in a range of thread counts.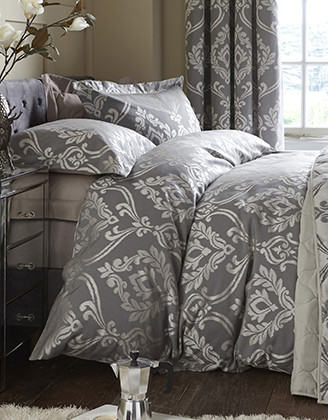 A raised pattern woven into fabric to create a luxurious textured finish.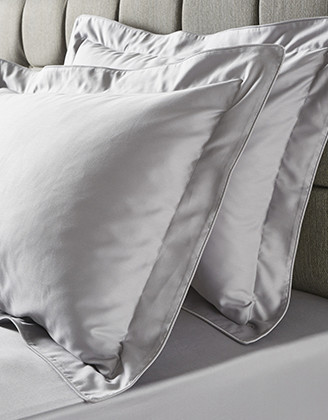 Generally a higher thread count fabric woven to create a soft, high lustre surface.
Once you've chosen the perfect bedding, you want it to last. Always wash bed linen separately from your normal load to prevent colours mixing and avoid shrinkage by following the care instructions on the label. Deep colours should be washed together, and ideally the pillowcase and duvet cover should be washed together too.
Top Tip!
Using a neutrally coloured detergent will help maintain the colour of your bedding.
Top Tip!
Iron cotton when it is slightly damp. This will get rid of creases more effectively.