We're proud and excited
to welcome Claire Sweeney as Fashion World's Style Ambassador!
"Clothes are my passion"
Claire's always had passion for fashion and as a former 'rear-of-the-year' she's a curve-champion for real women who, like us, understands the confidence-boost you get from looking good in styles that work for your shape!
"It's inexpensive - it's affordable fashion"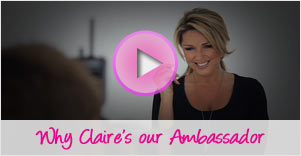 Who's that girl?
We first saw the multi-talented Claire Sweeney as Lindsey Corkhill in Channel 4's Brookside back in 1991. Since then, Claire's become one of the nations best-loved TV personalities, appearing on hit shows, Loose Women, Strictly Come Dancing, and the very first Celebrity Big Brother. Claire's also fronted a number of her own shows, presenting the hugely popular 60-Minute Makeover.
Whilst continuing to act on the small-screen - most recently in Candy Cabs - Claire's West-End career has gone from strength-to-strength, with leading roles in Tell Me On A Sunday, Fosse and Chicago, she's even managed to squeeze in a hit album, a top-selling fitness DVD and the infamous 'Big Fat Diet' documentary too! .Phew!