Fashion World- fashionable and affordable plus size fashion.

Stunning Plus Size Tops From Fashion World
Fashion World is the perfect place to find clothing for curvy women that's both fashionable and affordable. One of the main aspects of staying fashionable is the tops in your wardrobe. Here at Fashion World we have a huge collection of women's tops in sizes 12 - 32 and a wide range of styles so you'll get the perfect look whatever your style!
Plus size blouses
Blouses are a perfect choice for any occasion. Our blouses range includes casual and smarter styles that look great for any occasion, whether it's a long blouse that you'll wear over leggings or a smarter blouse for evenings out.
Plus size cardigans
A cardigan is a great way to take your summer outfits into autumn and winter. We have a fantastic range of plus size cardigans in a wide range of styles, colours and sizes so you're sure to find one that's perfect for you!
Plus size jersey tops
Jersey tops are perfect for curvy women as they skim your shape and flatter your curves. Our range of plus size jersey tops includes both plain and patterned styles in a gorgeous choice of colours and styles. We have fabulous going out tops made from jersey fabric as well as casual looks!
Plus size jumpers
There's nothing nicer than pulling on a warm jumper in cold weather. That's why we have a fabulously fashionable range of plus size jumpers. They're totally on trend as well as being warm and cosy - perfect for cooler days!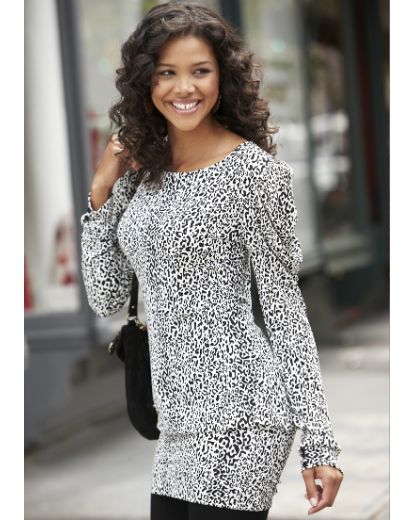 Plus size shirts for women
Finding fashionable plus size office wear can be tricky, but here at Fashion world you'll find gorgeous smart clothing that's on trend and perfect for curves. We've gorgeous plus size shirts that are ideal for getting a professional look with a fashionable edge!
Shrugs and boleros
Shrugs are a must for any woman's wardrobe; they add new a new dimension to any outfit as well as being the perfect substitute for a summer jacket and hiding upper arms if they're a problem area. Shrugs are ideal when a cardigan is just a little too much.
Plus size t-shirts and vests
We pride ourselves on our range of casual womens wear and women's casual tops. Choose from our fabulous range of plus size t-shirts for your ideal leisure tops and tees for everyday wear. Every woman's wardrobe should have a choice of at least a few vest tops. Our vest tops come in our fantastic size range that includes sizes 12 - 32 and a stunning range of styles. Our vests and camisoles look fantastic with jeans and trainers for a laid back look.
Plus size tunics
Tunic tops are a great choice that offer fabulous versatility. Many tunic tops can be worn as dresses and look gorgeous with a pair of leggings, tights or skinny jeans. Our styles are made to suit women with curves and our range is second to none!